Film Premier: "The Life of Oscar Mack: The Bridge of Freedom to Love"
April 13 @ 5:00 pm

-

8:00 pm

Free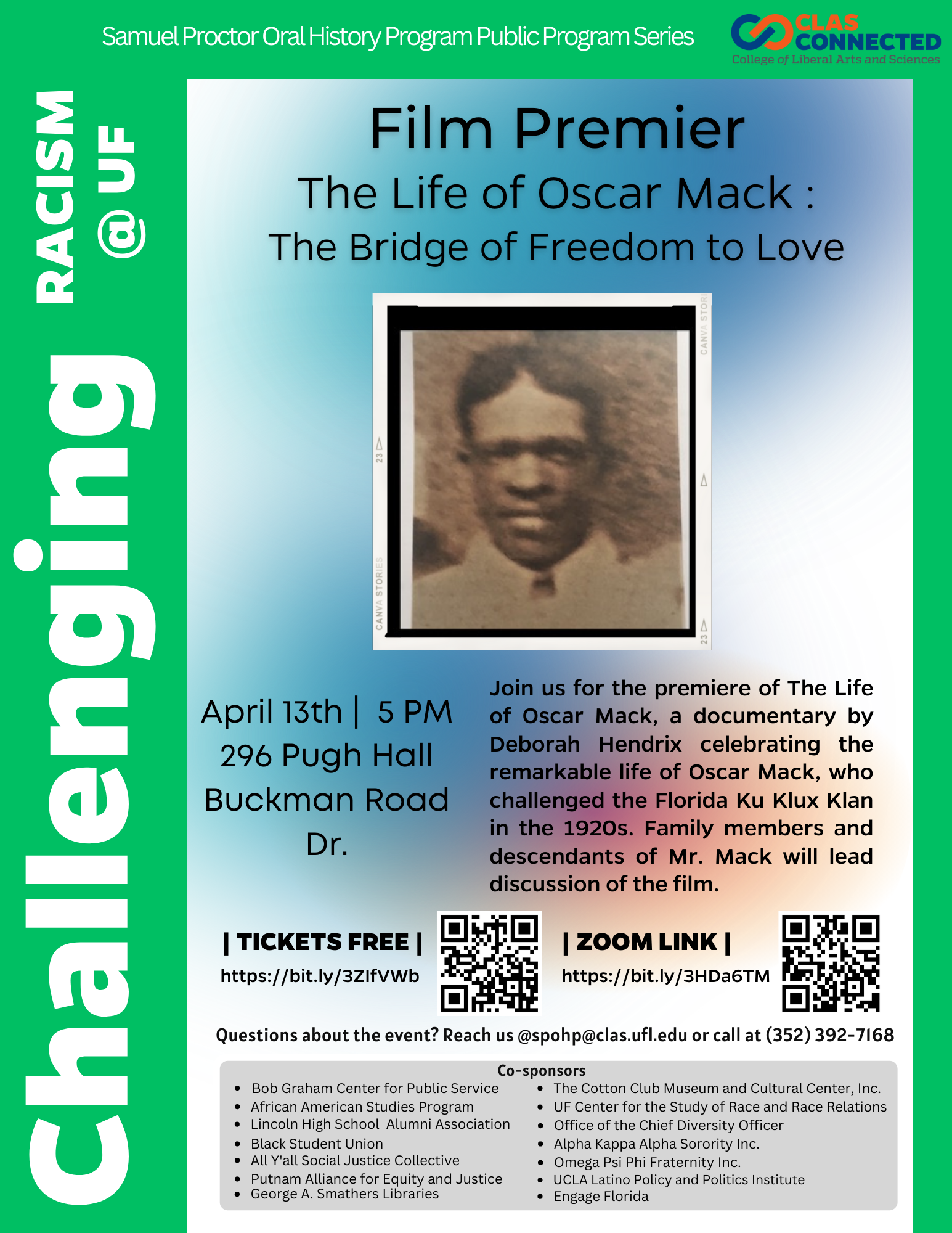 The 1920s in Florida saw some of the most severe racial violence in the United States, in an era already known as the low-point for race relations. Two years after the Ocoee massacre, the bloodiest day in American political history, and one year before the destruction of Rosewood by a White mob, one Black man stood up to the Ku Klux Klan in Jim Crow Florida. Black WWI Veteran Oscar Mack received a federal appointment as Postmaster in Kissimmee, a job that would come at a price. When White police, angered by his prominence, came after Mack, he used his military training to defend himself. Newspaper reports conflict about what followed. What happened to Oscar Mack? One hundred years later, interviews with Mack's descendants reveal the true story. Follow the journey of Oscar Mack and his family as he escapes death and travels throughout the country trying to create a new life.
While teaching an African American history class in 2013, Professor Julian Chambliss discovered the puzzle of Mack's life. Filmmaker Deborah Hendrix uses interviews conducted by Dr. Chambliss and by SPOHP with Mack's descendants of both families involved. This story demonstrates the economic basis of racial violence and the necessity of Black resistance to White supremacy. The Life of Oscar Mack aims to reveal the truth and bring closure to everyone affected by this story of bravery and resilience. Descendants of Oscar Mack will be in attendance and will discuss his legacy and the importance of the film.
For information on live streaming the program, please contact the Samuel Proctor Oral History Program at 352-392-7168.