Ukraine Supply Drive
April 11, 2022

-

April 29, 2022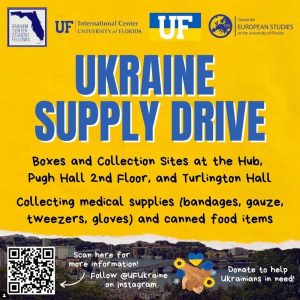 The Bob Graham Center is hosting a Ukraine Supply Drive in conjunction with the UF International Center, the Center for European Studies and UF Ukraine. Donations will be shipped to Meest, which will then distribute the resources to Ukrainians affected by the Russian invasion. Collection sites and boxes are available at the Hub, in Turlington Hall and on the 2nd floor of Pugh Hall.
Medical supplies, such as bandages, gauze, tweezers and gloves are needed, as well as canned food items.
This supply drive runs through Wednesday, April 27.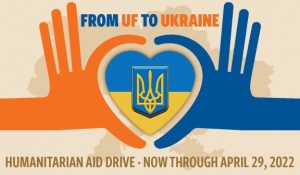 The University Athletic Association and the Otis Hawkins Center have teamed up with a student/athlete-led initiative to collect humanitarian aid for beleaguered civilians and home defense in Zaporizhzhya, Ukraine, which amid ongoing warfare is also hosting thousands of refugees from heavily bombed and besieged Mariupol on Ukraine's Azov Sea coast.
Now through Friday, April 29, generous Gators can drop off much-need items at the front desk collection box on the first floor of the Hawkins Center at 205 Fletcher Drive on the UF campus. Click here for map and directions. A 24/7 collection box is also available on the first floor of Library West to the right by the up escalator.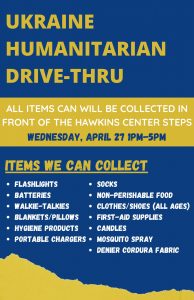 A dedicated drive-thru will also be held on April 27, from 1 to 5 p.m. at the Hawkins Center. See attached flyer for more information.
Items needed:
Activated charcoal capsules
Baby cereal
Baby food
Baby formula
Baby ointment
Batteries
Binoculars
Blankets
Camouflage clothing
Candles
Canned fish, meat, and vegetables
Cereal
Clothes (for all ages)
Cold and flu powders
Cotton balls, bandages, gauzes, and pads
Cotton socks (long)
Denier cordura fabric
Deodorant
Diapers
Disposable shaving kits
Enterosgel
Flashlights
Gloves
Hats
Hemostatic (anti-hemorrhage) agents
Ibuprofen or other NSAID (non-steroid anti-inflammatory drugs)
Iodine
Knee pads
Mosquito repellent
Nonperishable food
Pants
Pasta
Pillows
Portable chargers
Rice
Shampoo
Shirts
Shoes (any size, men's sized 8.5 to 13 most helpful)
Shower gel
Toilet paper
Toothbrushes
Toothpaste
Tourniquet kits
Travel kits
Tylenol
Walkie-talkies
Wet wipes
Women's hygiene pads
Questions? Please email Pierre Banks at PierreB@gators.ufl.edu or Anton Svirskyi at asvirskyi@ufl.edu.