Intersections Spring Symposium and Intersections Scholars Celebration
April 23, 2021 @ 2:00 pm

-

4:00 pm

Free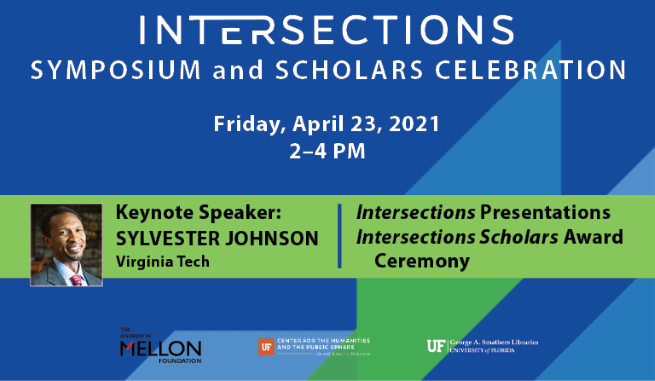 For the last three years, faculty and students have been working across disciplines to address grand-challenge questions, such as "What would the world look like without mass incarceration?" Please join us for the first Intersections Symposium: a celebration of the achievements of the UF Intersections project, cross-disciplinary Intersections Groups, and the first graduating classes of undergraduate Intersections Scholars (Spring 2020 and Spring 2021). With support from The Andrew W. Mellon Foundation, Intersections introduces students to grand-challenge questions that face our world now and in the future. This event is free and open to all UF students, faculty, staff, their families, and the public. Learn more about the Intersections Scholars program and the role of the humanities in our increasingly complex world.
This event will also feature a keynote lecture by Virginia Tech Professor Sylvester A. Johnson entitled "Will Robots Feel Pain? The Politics of Race, the Governance of Technology, and the Future of Humanity." This keynote lecture is also part of the UF Center for Humanities and the Public Sphere 2020-21 speaker series 
Rethinking the Public Sphere Part II: Data & Democracy. 
SCHEDULE OF EVENTS
Part 1: Welcome and Keynote Lecture 
Welcome by UF President Kent Fuchs and Dean Dave Richardson
 "Will Robots Feel Pain?" delivered by Sylvester A. Johnson (Virginia Tech)
Part 2: Celebration of Intersections Groups and Scholars 
Remarks by Associate Provost Angela Lindner
Presentations by Intersections Group Faculty and Graduate Students
Intersections Scholars Video Showcase
Intersections Scholars Award Ceremony