Asian Collection Tour at the Harn Museum
May 13, 2022 @ 4:00 pm

-

5:00 pm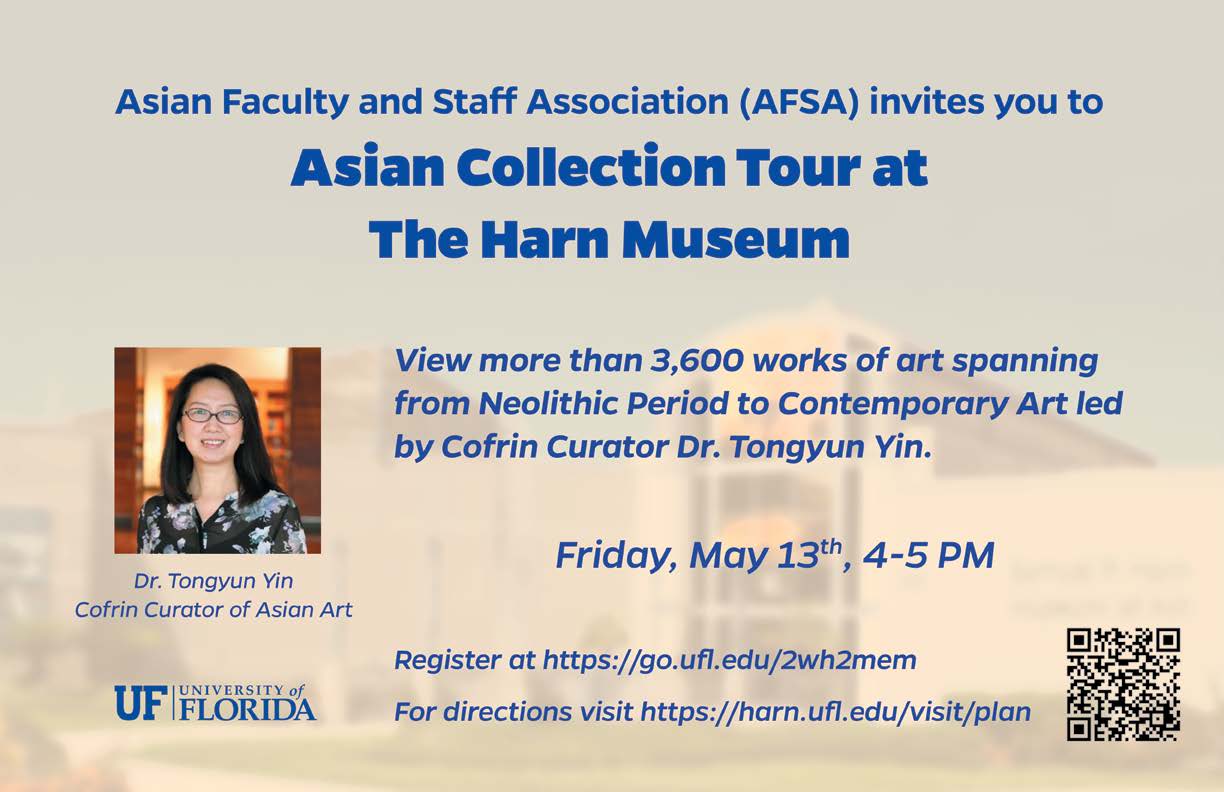 Asian Faculty and Staff Association (AFSA) would like to invite you to the Asian Collection Tour at the Harn Museum on Friday, May 13th, 4-5pm.
Registration link: https://go.ufl.edu/2wh2mem
For the Harn Museum of Art Visit
Situated in the UF Cultural Plaza in the southwest of the campus, the Harn Museum of Art is one of the largest university art museums in southeast America. With more than 3,600 works, the Harn's Asian art collection spans from the Neolithic period through cutting-edge contemporary art. It covers a vast geographic distribution, from central Asia in the west to Japan in the east, and from China in the north to the southernmost points of India and Southeast Asia. The Asian Wing at the Museum features seven exhibitions highlighting Asian ceramics, Chinese jade carvings, south Asian stone sculptures, paintings, and prints. The variety and quality of the works provide the opportunity to explore regional and transnational trends in Asian art, ranging from ceramic traditions to the spread of Buddhism to the relationships between Asia and the West via artistic visions and creations.
For directions: https://harn.ufl.edu/visit/plan.
For detailed directions and parking, please see below.
GETTING TO THE HARN
The Harn is located on Hull Road, near SW 34th Street, and across the street from the Southwest Recreation Center.
For a map of the location of the Harn at UF, click here.
Vehicle parking requires a UF parking decal (green or better), or is $4.00 (limited space).  Parking is free after 3:30pm on weekdays and all day on weekends.  Bike parking is always free.
Biking
From central campus, bike westward past Lake Alice until Museum Road terminates at Hull Road, turn right, pass the SW Recreation Center, take the next left and you are there—should take about 10 minutes from the Century Tower. Bike racks are available in the surface lot and in the covered parking structure.
RTS BUSES TO THE HARN & NEARBY: *Be sure to check for route changes caused by campus construction.
Routes to/near the Harn, Mon-Fri (remember to use links above to check for changes):
Campus – #117, #118, #119, #125, #126
City – #20, #21, #28 [stops nearby], #33, #34 [stops nearby]
Look for this building (near the Natural History Museum and across the street from the Southwest Recreation Center) –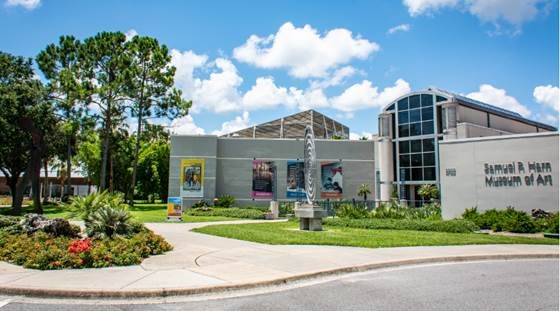 In The Galleries:
No gum, food or beverages in the galleries. You must check backpacks and larger bags (and food and bottled drinks) at the front desk.
Please bring pencils for note taking (no ink; the Harn has loaner pencils)!!!!!
Masks are welcomed to be worn in all buildings at UF.
Feel free to take photographs without a flash.
Visitors with backpacks will be asked to deposit them securely at the front desk.