Annual Conference of the Social Sciences
March 13, 2021 @ 9:00 am

-

12:00 pm

Free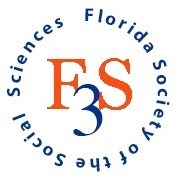 For the past 15 years, the Florida Society of the Social Sciences (F3S) has strived to provide a unique forum for Florida's scholars of the social and humanistic sciences to engage with others around issues of social import and impact. The cornerstone of F3S's efforts is the Annual Conference of the Social Sciences, where hundreds of graduate and undergraduate students from around the state come together to present and discuss their work with a broad audience that crosses disciplines, professions, origins, and walks of life.
This year's conference will be unique as it will be held entirely online.
Please join us as we welcome two speakers to the Annual Conference of the Social Sciences.
Each speaker will be available for a Q&A session included in the webinar allotted time.
Please register for each event you are interested in attending using the links provided:
Saturday, March 13, 2021
Webinar #1: 9am-10:30am
ALYASAH ALI SEWELL, PH.D.  Associate Professor of Sociology at Emory University and Founder and Director of The Race and Policing Project. A widely published medical sociologist and social science research methodologist, they assess the political economy of race, neighborhoods, and health.
Registration Link: https://ufl.zoom.us/webinar/register/WN_8NtzSJrYR7eHwreyh7ei6A
Webinar #2: 10:30am-12pm
KATHERYN RUSSELL-BROWN, PH.D. Levin, Mabie & Levin Professor of Law and Director of the Center for the Study of Race and Race Relations at the University of Florida, Levin College of Law. Prior to joining the University of Florida law faculty in 2003, Professor Russell-Brown taught in the Criminology and Criminal Justice department at the University of Maryland for 11 years.
Registration Link: https://ufl.zoom.us/webinar/register/WN_x-ECulvfTNuZ_PlacdUsBg